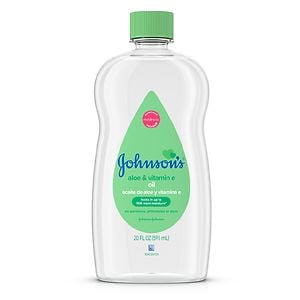 Packaging: 125 ml in a translucent tube with a pastel green lid. A perfect, pocket-sized bottle, ideal for a handbag, work space or even a cup holder in your car!
Scent: Johnson's are renowned for their mild, 'baby' scents. This is a pleasant, light, lovely aroma. I've always found something very comforting about the scents of Johnson's products, possibly because I affiliate them with my own infanthood!
Texture: I find Johnson's oils so unique. It's almost like rainwater on the skin. It's best applied to skin up to three minutes after showering or bathing so as to lock in moisture and you can run it over your body like morning dew or drizzle in under 20 seconds and be shiny and soft as a new-born seal!
Price: 100 baht (equivalent of £2). Please check your relevant currency.
Bang for your buck: This is the original baby oil formula enthused with vitamin e, which prevents early rancidity of a product and aloe vera (a brilliant after sun skin soother). I adore Johnson's products and consider them a staple. Application is so effortless, the smell is lovingly pleasant and a little goes far.
Does it work?: This is one of the mildest and yet most powerful, not to mention cheapest of moisturisers, that I know of. The inherent purpose of a moisturiser is to do just that - moisturise - and Johnson's really lock in that moisture. I don't know anyone who dislikes or distrusts the Johnson's brand. I perceive it as the perfect moisturiser. A stranger even ran her hand up my arm and complimented me on how soft I was! Please be aware that Johnson's oil contains mineral oil which has been criticised as a pore blocking product. Although I've never noticed any blocked pores, it is of course essential that your skin is able to breathe. If you suffer with acne of the body or other skin conditions, I would not advise that you use this product. Furthermore, if you have oily or acne oriented skin on your face, do not use this product there as your pores will struggle!
Does it last?: You'll still be soft not only by the morning but for the entire day.
Would I repurchase?: Without a shadow of a doubt. I would recommend to anyone!
Overall rating: 9/10